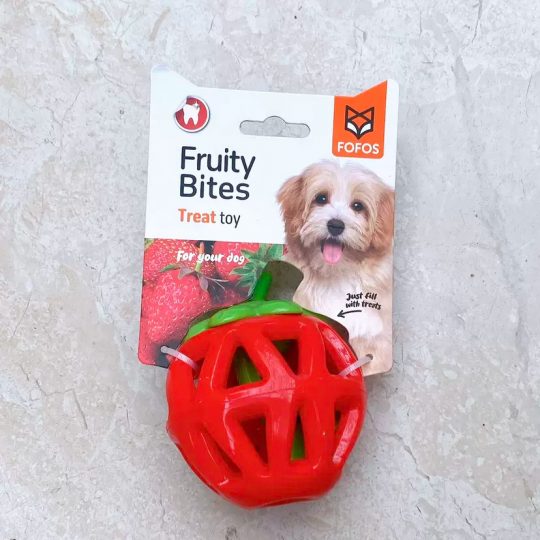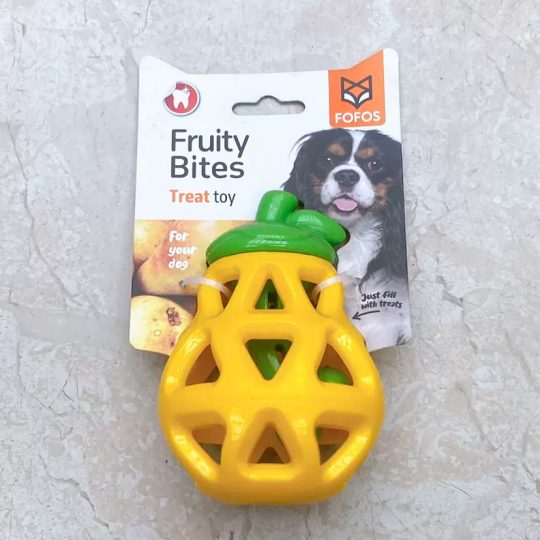 FOFOS Fruity Bites Dog Treat Dispenser Toy
FOFOS Fruity Bite Dog Treats Dispenser Toy is made of durable, 100% natural rubber and can be taken apart to create two chew toys – perfect for small and large dogs alike. Best of all, it comes with a built-in treat dispenser that allows you to stuff delicious snacks inside for longer playtime or shorter sessions depending on your dog's needs. Keep your pup happy and healthy with FOFOS Vegi-Bites Treat Dispenser!
Description
Key Features
An interactive treat-dispensing toy that allows you to add larger treats for longer playtime and shorter treats for shorter playtime.

2 in 1 dog toy set that can be taken apart and used as two separate chew toys.

Made from 100% Natural Rubber

Allow your dog to chew and play while getting the right amount of exercise. 

Ideal for small-large dogs (5-30kg) of various breeds such as Dachshund, Pom, Spitz, etc above 1 year of age. 

Strong but not indestructible and is best suited for pet dogs that have moderate chewing, and fetch playing styles. 

Not recommended for aggressive chewers.
Im-paw-tant
Materials: 100% Natural Rubber, 
We understand that you are often looking for the most cost-effective solution to get your purchase to your home. For online purchases around the area, we offer in-home delivery for $50. Please contact our store if you would like more information on local delivery. The estimated shipping time is between 4-21 working days. Returned items must be new and in unused condition. A few of our vendors may be excluded from our return policy. Any exceptions are noted on the page of the item.